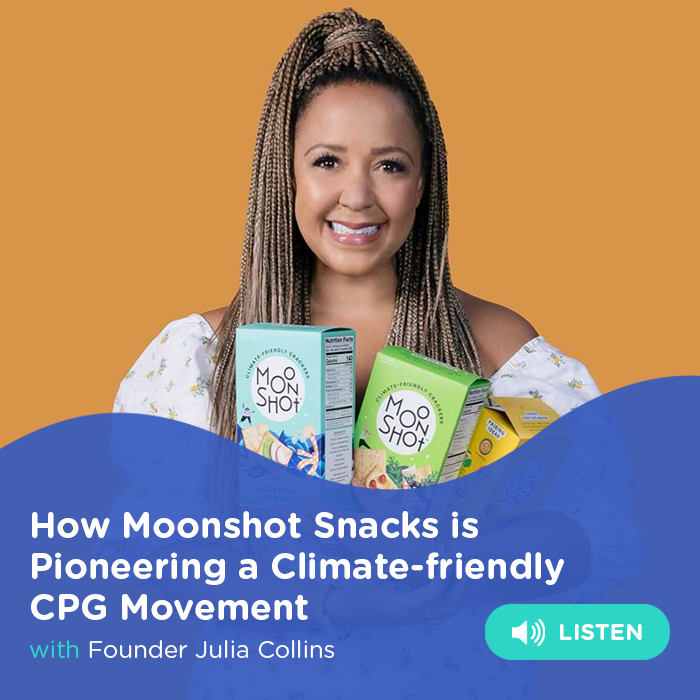 "Climate change and sustainability can feel like such huge problems that you struggle to even know the first step you can take. So I thought, why don't I start with something small?"
Where some see an overwhelming problem, Julia Collins sees a wondrous opportunity.
As founder and CEO of Planet FWD, Julia Collins is on a mission to tackle climate change using the magic of food, starting with the world's first climate-friendly snack brand Moonshot Snacks.
Not only does Moonshot Snacks make ridiculously delicious crackers, but every step of their creation is dedicated to reducing emissions in the food system, improving soil health and optimizing human health.
In this episode, Julia shares how her and her team are using technology to discover scalable solutions to the food system's biggest problems, and getting customers excited about making conscious choices that reflect the world they want to live in.
Links
@moonshotsnacks on Instagram
@moonshotsnacks on Facebook
Connect with Julia on LinkedIn
Have an idea for the show? Drop us a line! Brandbuilder@snacknation.com.
Join our Exclusive Facebook Group!
What's your biggest takeaway from the episode? Join our invite-only, private Facebook group just for Brand Builder Community members, where you can connect with fellow entrepreneurs and founders, crowdsource ideas, share best practices (or lessons learned), and get your most important questions answered. Join now!
Facebook.com/groups/brandbuilderpod
Brand Builder is produced by Caroo.